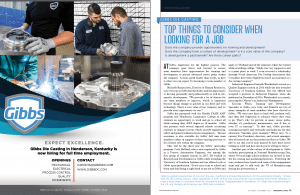 Top things to consider when looking for a job:
Does the company provide opportunities for training and development?
Does the company have a culture of development? Is it a core value of the company?
Is development a paid benefit?
Are there career paths?
At Gibbs, employees are the highest priority. The company goes above and beyond to ensure team members have all four of the above opportunities . Actions speak louder than words, so here is what you can expect by becoming a team member at Gibbs.
Michelle Ramacciotti, Director of Human Resources, says everyone at Gibbs has the ability and the opportunity to develop personally and professionally as well as job-specific development. "We provide a lot of choices for our team members to improve, which is important because things change so quickly in our field and with technology. That's a core value of our company and we provide every opportunity we can."
Gibbs has partnered with area colleges to provide internship opportunities and Kyndle's FAME AMT (Advanced Manufacturing Education / Advanced Manufacturing Technician) program to provide leadership development and educational assistance to further educate team members, either in support of their existing position or for a future role within the company. Tuition assistance is even available for team members if needed.
This will be the third year for Gibbs' internship program. Cody Holland, who is now employed by Gibbs as a Process Automation Engineer, was among the first group of summer interns in 2015. He worked in Research and Development at Gibbs while attending the University of Southern Indiana and was offered a job at Gibbs upon graduation. "It was nice to go to school and learn and then bring it right back to my job at Gibbs and apply it," Holland said of the semesters where he worked while attending college. "Gibbs was very supportive and is a great place to work. I even received a scholarship through North American Die Casting Association that I wouldn't have been eligible for had I not interned at a die casting company."
Industrial Engineer Danielle Weatherholt started as a Quality Engineer intern in 2016 while she also attended University of Southern Indiana She was offered and accepted a position as Industrial Engineer when she graduated in December of 2016. Weatherholt is currently pursuing her Master's in Industrial Management.
Kristina White, Training and Development Specialist at Gibbs, says Cody and Danielle are two of many examples of team members who have thrived at Gibbs. "We want new hires to land well, perform well, and then feel supported to advance where they want to go. That's why we provide so many career paths, whether it's production, maintenance, tool & die, or even IT or nursing." To that end, Gibbs provides training internally and externally and helps pay for that education. "Another great example," White says, "is a current Vice President, directors, and several managers who all started out on the production floor at Gibbs. We like to say that you're only limited by how hard you're willing to work and how much you're willing to learn."
Another part of the culture of development at Gibbs includes participating in National Manufacturing Day, where 30 local high school students are invited to tour the die-casting and machining facilities. Following the tour, students have lunch with some of the management team and get to talk with the VP of Manufacturing during his presentation.