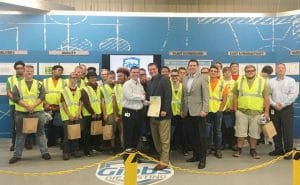 Manufacturing Day℠, observed nationally on the first Friday in October, is a celebration of modern manufacturing meant to inspire the next generation of manufacturers. In celebration, Gibbs opened its facilities to students from Henderson County High School's Career & Technical Education program. Students were able to spend their school day at Gibbs and sister company, Audubon Metals. After the students toured Gibbs' casting and complex machining facilities, they were able to sit behind the wheel of new vehicles outfitted with Gibbs parts. Wrapping up the event , students met the top manufacturing executives for a catered lunch with the and to hear about future career opportunities at Gibbs.
Also attending the event were a representative of Congressman Comer's office, the Mayor of Henderson, Henderson County Judge Executive, and Henderson County Prosecutor. The event was culminated with a Manufacturing Day Proclamation given by Henderson's Judge Executive, Brad Schneider.
Manufacturing Day is an annual national event executed at the local level supported by thousands of manufacturers as they host students, teachers, parents, job seekers and other local community members at open houses, plant tours and presentations designed to highlight modern manufacturing technology and careers.
"There is an increasing demand for highly skilled professionals in the manufacturing sector who can design, program and operate technology," said Michelle Ramacciotti, Director of Human Resources at Gibbs. "The average age of a manufacturing employee is 56, and between now and 2020 there will be an unprecedented shortage of skilled workers who will need to be replaced."