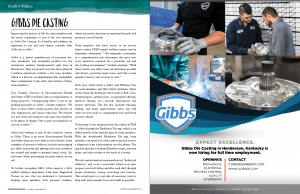 At Gibbs Die Casting, part of their mission is to improve the quality of life of their team members and our community. So if health and wellness are important to you and your family, you should check out what Gibbs has to offer!
Gibbs is a global manufacturer of precision die-cast, machined, and assembled products for the automotive industry headquartered right here in Henderson. They are proud to say they have achieved 2 million man-hours without a lost time incident, which is a historic accomplishment they believe exemplifies their commitment to the safety and wellness of our team members.
Eric Gardner, Director of Environmental Health and Safety (EHS) attributes that accomplishment to being proactive. "Championing safety is one of our guiding principles at Gibbs," Gardner explains. "We have a robust safety system in place that focuses on risk elimination and injury reduction. We educate our new hires and empower our long time members to be agents of change. Peer to peer accountability is critical to safety."
Safety and wellness is a part of the corporate culture at Gibbs. There is an active Environmental Health and Safety team on every shift in every facility. Some examples of proactive behavior include encouraging pre-shift stretching and making sure team members are trained and taught to properly bend, stoop, lift, and twist while performing everyday duties on the job.
To further strengthen EHS, Gibbs employs a fully staffed wellness department with three Registered Nurses on site who are dedicated to holistically helping team members with personal wellness, which ultimately decreases occupational hazards and promotes overall health.
Team members also have access to an on-site fitness center, FREE annual wellness exams, and an ergonomic assessment. "The ergonomic assessment is a comprehensive risk assessment that goes over every maneuver required for a particular job and the working environment," Gardner explains. "With those results, our safety team is able to determine possible risk factors, prioritize target areas, and take a team member's history into account as well."
Each year, Gibbs holds a Safety and Wellness Fair for team members and their family members where outlets from the healthcare field (such as Red Cross, dermatologists, pediatricians, occupational therapy, physical therapy, etc.) provide information and answer questions. The fair also includes hunting, fishing, and home improvement safety tips and other services such as a mammogram bus and blood pressure checks.
Technology is also integrated into the culture of EHS at Gibbs through the Healthiest You app, which is an added benefit of the medical plan for team members. With the downloaded Healthiest You app, team members can speak live with a physician and receive a diagnosis or get a prescription over the phone. The app also includes a catalog of healthy recipes, exercise plans, and other recipes at the touch of a screen.
We truly understand our team members are "Industrial Athletes", and to be a successful athlete you must prepare your body before and after each shift through proper hydration, eating, stretching and exercise. The overall goal is to provide all necessary tools to help each team member be as successful as possible.