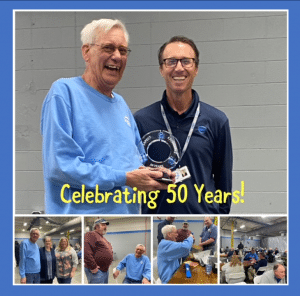 Congratulations to Brad Owens on 50 years of service to Gibbs!   To mark the special milestone, Gibbs celebrated with presentations honoring Brad and a company-wide cookout catered by Up in Smoke. Special guests included Brad's wife, Judy, and his daughter, Melissa, both of whom worked at Gibbs in the past.  In discussing any possible retirement plans for Brad, Melissa said, "My dad isn't even thinking about retirement. I think I might be retired before him!"
President and CEO, Greg Risch, thanked Brad for his hard work and dedication to Gibbs while Michelle Ramacciotti, Director of HR, presented him with an honorary trophy. Tim Gage, Tool Room Supervisor, also presented gifts from Brad's Tool Room team.
Brad spoke to his fellow team members thanking them for their friendship over the years. He said his first job at Gibbs was sweeping the plant floor and moved into casting after a few weeks. Early on he took advantage of the training provided by Gibbs and was able to move into the Tool Room where he still works today.
Thank you, Brad, for 50 years!