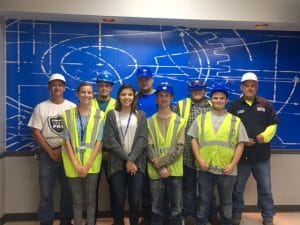 Written by Caitlyn Kirchoff
Gibbs has a few new young faces running around the campus this summer!  This would be the 7 new members of the Summer Work Crew working under Earl Frederick. The summer work crew is hired to help with all kinds of projects including cleaning, painting, and other odds and ends projects.
Some of the new faces may resemble people you know and work with on a day to day basis. To be hired onto the summer crew, you must be between the ages of 18-25 and have a relative that is currently a team member at Gibbs. At Gibbs, we take pride in the family atmosphere and having the family of current team members come work for the summer is another way of enacting this part of the corporate culture. For example, one member of the work crew is the 5th generation of his family to work at Gibbs. Another represents the 4th generation of his family to take part as a team member at Gibbs.  "It brings a smile to the faces of our Team Members when they see a project they know their relatives worked on and or contributed to completing," stated Naomi Sutton, Talent Acquisition Specialist at Gibbs. Team members at Gibbs deserve to work in a clean and nice environment and the Summer Work Crew helps maintain facilities and keep them in pristine shape. "We would be remiss if we did not mention that being able to display our company to the community is adding icing to the cake," said Sutton.   Recent projects include, but are not limited to, cleaning up the inside and outside of Federal, painting doors at Tech, and painting doors, window sills, walls, and rails at Comac.
Not only does Gibbs benefit from having a Summer Work Crew, but the members gain a lot of experience from working at Gibbs as well. The opportunity to work on the crew at Gibbs is one of many ways that Gibbs is involved in the community and mentors young people in the area.  Of course, they gain the technical skills and probably build some muscle, but they are learning soft skills as well. The Summer Work Crew mingles with people from all over the company in every plant so they are developing intrapersonal and communication skills. As a team they have had to solve problems, play their part, and be innovative. The team work skills being developed are making each member a stronger individual. Gibbs values such as integrity and respect are instilled into each new team member as they listen, cooperate, and collaborate with their peers and supervisors. Members are encouraged to be the best they can be and challenged to learn new things and continuously improve.
Below is more information on each team member.
Kasey Rhea, daughter of Brandon Rhea and granddaughter of Mark Goben, is 18 and a sophomore at Henderson Community College where she is studying Business. Kasey mentioned "Many of the things we are helping with seem like minor jobs, but they are things that get pushed off and never get done. So that's where we come in. We need all hands on deck to help make Gibbs the best it can be, and I believe the summer crew helps it take us one step closer. One of the main ways this job has impacted me is being able to work at the same place as my family members. Seeing how hard they work and getting to see what they do has made me so thankful for this opportunity."
Caitlyn Kirchoff, daughter of Brian Kirchoff, is 20 and a junior at Eastern Kentucky University where she is studying Marketing. Caitlyn reflected,"Gibbs has given me a whole new perception of the automotive industry and the planning and hard work that goes into die casting and car production. As I drive now, I think about all of the components in cars that may have been produced by Gibbs. The Summer Work Crew is like a behind the scenes player that keeps the facilities up kept which hopefully lifts team members' spirits and make them feel valued and appreciated. One of my favorite parts of the work crew is the 30 minutes that I get to eat lunch with my dad every day."
Austin Madden, son of Geoff Madden, is 18 and just graduated from Henderson County High School. After the summer he plans on going to college and working part time. Austin mentioned "I think the summer crew is important because if it weren't for Earl and his crew keeping Gibbs looking clean inside and out, it would reflect poorly on Gibbs' standards of a clean and safe work environment."
Dylan Hayes-Warner, cousin of Geoff Madden, is 19 and a junior at University of Kentucky and is studying mechanical engineering. Dylan said "The Summer Work Crew gives college students and high school graduates an opportunity to experience real life and the workforce. It gives Gibbs an opportunity to reach younger minds and potentially grow the company."
Zachary Sutton, son of Jeff Sutton and grandson of Elmer Sutton, is 18 and recently graduated from Henderson County High School. Zach reflected that "The work crew gives young people something to keep them busy and help them learn and grow over the summer. My favorite part is the friends I have made and the connections I've developed."
Jake Saylor, nephew of Dewayne Pendergraft, is 18 and a senior at Henderson County High School. Jake stated, "We are able to get some projects done that full time employees aren't able to. This allows them to be more productive as they focus on their priorities and we focus on ours."
Jordan Burks, nephew of Janet and Chris Brack, is 18 and a senior at Union County High School. In the fall he will be focused on completing high school. Jordan said "We are important because we make Gibbs look better and do the stuff that Gibbs employees can't do."